There is something distinctive about a person's voice.  There are just certain voices that when you hear them you immediately know who that person is. I am a big baseball fan and I can still remember those voices I listened to as a kid like Cleveland Indians broadcasters Bob Neal, Herb Score, and Joe Tait as well as the infamous Bob Prince (Pittsburgh Pirates). I can still hear "the Gunner", as Prince was affectionately nicknamed, complain about an umpires strike call by declaring "he couldn't have hit that pitch with a bedslat!". I didn't really know what a bedslat was, but I figured it had to be pretty long because the pitch was way outside!
Several years ago, my wife and I were in Kauai for our 30th wedding anniversary. We were driving on the road to the "Grand Canyon of the Pacific". 
When we arrived, we got out of the car to go to a scenic overlook.  As we were walking, I heard this very distinctive voice that called out "Hey, Doug!". I immediately stopped because that was the voice of my Dad, except that wasn't possible because he had passed away a couple of years before.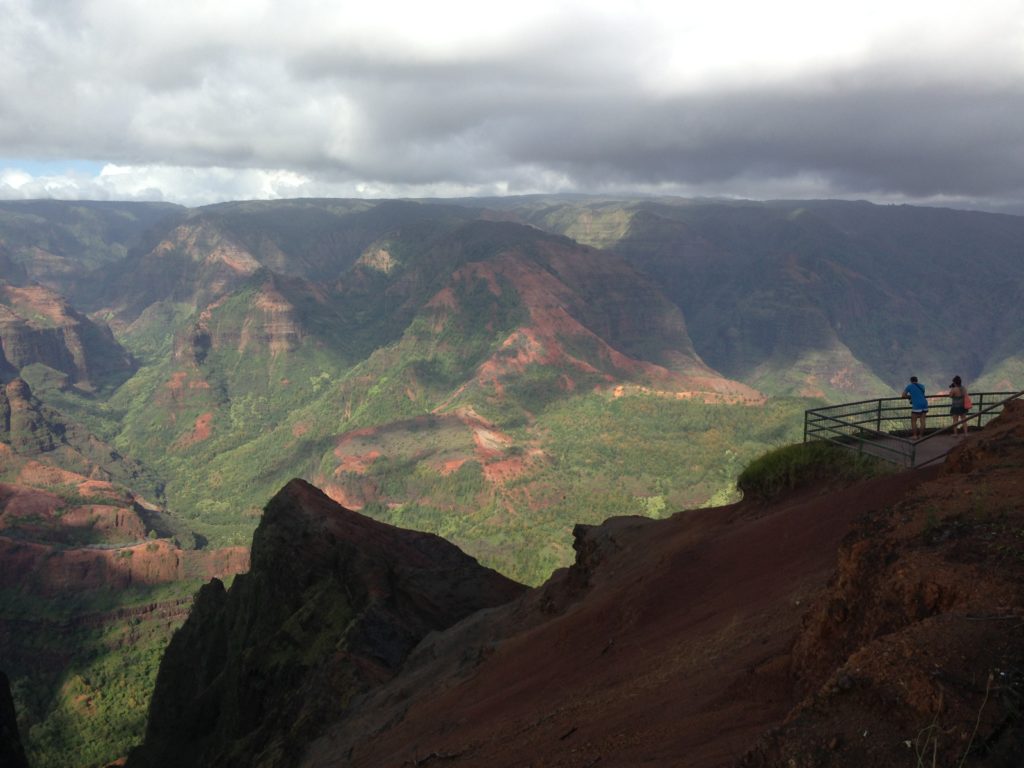 I looked around and saw a family a few hundred feet away and I suppose there was a Doug in that crowd, but wow, that voice was so familiar. In that moment, I immediately felt a sense of loss, how I had missed hearing his voice, and gratitude, for having such a wonderful and loving Dad.  There is something powerful and distinctive in a voice, isn't there?
One of the great challenges and mysteries of being an apprentice of Jesus is learning to hear His voice. The verse above paints a beautiful picture of how this is to look.  But if we are honest, it can be a struggle to hear God's voice and sometimes when we think we hear His voice, it really isn't His voice we are hearing!
As I look back on my life, I would say I have struggled with having the type of clarity in hearing my Heavenly Father's voice. It has not always been as clear and distinctive as I experienced hearing my earthly Fathers voice that day on the island of Kauai. In many respects, this links back to my picture of God where for a great part of my life I experienced God as demanding or at least consistently mildly disappointed in me. Imagine the static in the airwaves between me and Jesus and my struggle to hear His voice when my picture of God is broken!
I am so thankful that God is good and loving and patient and kind. He knows how that picture has evolved over time and has lovingly continued to pursue me and heal that picture. In the process, His voice has become clearer and more distinct. But, as the saying goes, "the struggle is real". I am amazed at times how quickly I can revert to that default picture and voice of God. For me, this normally revolves around performance and the sense of not doing enough and when I sense not doing enough, I feel like a disappointment. The voice I hear in these times can take on these forms:
"you better get with the program, you need to do your fair share"
"look at what ________ is doing, why are you not doing more like them?"
"I have given you so much and yet you do so little"
"I am disappointed in you"
When I review this list now, I can tell whose voice that is. That is the voice of the enemy. Jesus described him as the "father of all lies" (John 8:44). However in those moments, that voice can seem so true because the enemy has doggedly thrown these lies around for a long time.
I have noticed over the years that it is easier to spot satan's lies in other people than I can spot them in myself. When I am talking with someone and they say something like "I am so stupid" or "I can never do anything right", I can see that lie coming from a mile away. Those lies are so untrue, damaging, and hurtful. They are so obvious! And yet, why can I be so blinded to them when I hear them for myself?
Distinguishing the Voice of God
Is there a way to learn how to discern the voice of God from the voice of the enemy? Absolutely! The good news is God never leaves us or forgets us. He is always drawing and inviting us to experience His love and to learn how to live life in His kingdom. But, we have to make a choice to reject the lies and follow the truth.  Old habits die hard, trust me I know. But it is also true that as we get more regular in rejecting satan and walking in truth, God can do amazing work to heal our hearts and set us free.   So what are some practical things we can do to help us know the voice of God?
Study the voice you are hearing: This can take time, but it is important to do some self-reflection and try to notice what we are hearing. You might make this a regular habit as you go through the day or maybe at the end of the day do a quick review of the day and see if you notice your thought life and what you were hearing. As you do this, begin to challenge these thoughts to see if they are really truth or could they be lies of the enemy.
Enlist a trusted friend: Sometimes we need an objective person to help us see our blind spots and help us to challenge thought patterns that we are living as if they are true. Like I mentioned earlier, I can hear a lie when someone else is talking about much easier.  So this may be true for you.  Find a trusted friend, counselor, spiritual director, or pastor and share your struggle and the types of messages you are hearing.  They can be a great resource to help you distinguish God's voice from satan's.
Meditate on God's word: In a way, God has made a recording of His voice by giving us His word. As we spend time with Him in His word, we will begin to attune our ears to His voice and learn to trust His voice.
Distinguishing Characteristics of a Voice
A final strategy to consider in learning to hear the voice of God is to understand the distinguishing characteristics of His voice which helps us know it more easily.  This has been an extremely helpful for me. Dallas Willard in his book Hearing God, talks about three characteristics of a voice:
Quality of sound: this deals with what the sound of the voice you hear is like. One quality is the tone of the voice. Is it kind, tender, loving, or is it critical, anger or demanding? Another aspect of quality is the style of the sound.  Is it slow or fast, indirect or to the point, loud or quiet.
Spirit of the voice: more than just tone this is the attitude noticed in the voice. Is it warm or cold, demanding or whining?
Content of the message: we can tell a lot about a person by the words they use. That is why it is important to study the voice you hear.  The content can help us understand who really is the author of the words.
For way too long in my life, I had confused God's voice with that of the enemy or negative self talk I had developed.  Paying attention to the quality of the voice has been extremely helpful to me. Many times, the voice I hear is driving or demanding leading me to feeling like a disappointment.  Now I am much more quick to dismiss or flat out renounce that voice and listen for the voice of God that is quiet, loving, and inviting. Yes, there are times when conviction is needed, but even then God always delivers the truth in love. I know His voice and I follow Him.
How about you? When you hear God's voice, what does it sound like? Just a note, when I say I hear the voice of God, I do not hear it audibly, but it is that inner voice in the depth of heart and soul and mind that we can all attune to.
In another post, I am going to share an exercise we did with the Renovaré Institute that was helpful in knowing God's voice more clearly. It really helped to reinforce knowing the voice of God.  In my head I know what His voice is like, but I know it now much more fully in my heart.  When I heard my Dad's voice that day call out to me "Hey, Doug" I could hear his love and delight in me.  When I hear my Heavenly Father's voice now, I experience more regularly His love and delight in me.  What a difference maker that is!