Doesn't the title of this post seem strange? Is it really necessary to categorize gratitude as a discipline? Shouldn't gratitude be a natural, heartfelt response toward what we have been blessed with or experienced? In some respects, that is true.  Webster defines gratitude as being in a "state of thanksgiving".  Often we are placed in a state of thanksgiving when we acknowledge what has been done for us. But many times, life can be painful and our circumstances can be overwhelming. It is hard in those times to be thankful because there is nothing that is apparent to us in those moments that places us in that state of thanksgiving.  When gratitude is based on our feelings or on the dependence on our circumstances, we can lose our perspective on life and experience feelings of discontent, depression and anxiety.
To appreciate the need for gratitude as a discipline, it is helpful to hear God's truth. Here are a couple of examples from Paul about gratitude:
In both instances, Paul encourages us to be thankful always and in every circumstance. How is that possible? Does Paul understand the hardships we are facing? How can we really be grateful if we are struggling with a pandemic, relational distresses, job loss, death of loved ones… This is the same Paul we talked about in a previous post who enduring more hardships that we can imagine.  Yet, he makes the point over and over to be thankful always. Paul gives a some clues in these verses on how to commit to gratitude always:
It is God's will for us: we can't always make sense of our lives or circumstances, but we can trust in Gods' goodness. If He says gratitude in all circumstances is God's will, we would be crazy not to consider it! Even if it doesn't make sense to us, trusting and walking in His ways is for our good.
Centered in Christ: this is the cornerstone for gratitude, our relationship with Jesus Christ. Without him, gratitude just takes on another external duty or religious exercise. Through Christ, we are cleansed and reconciled to the Father. We see the Father for who He really is and understand the depths of being His beloved child.
Filled with the Spirit: as we experience the fellowship of the Holy Spirit, the very power of the Trinity is unleashed within us. We see our lives through "spiritual eyes" and we are strengthened by His power living in us (Eph 3:16)
In Community with Others: what is the thing that makes the fourth Thursday of November so special? Gathering with the ones we love and expressing our thanksgiving and love for each other and for God. Thanksgiving is a practice that is good for us individually, but it is enhanced and strengthened even more in community with others.
As we gather together this Thanksgiving with family and friends, we are reminded of the first Thanksgiving offered by a group of people whose circumstances were not a breeding ground for gratitude.  The pilgrims left for America in August, 1620 with 102 in all in a boat no longer than 50 feet not knowing for sure where they were going or what they would find.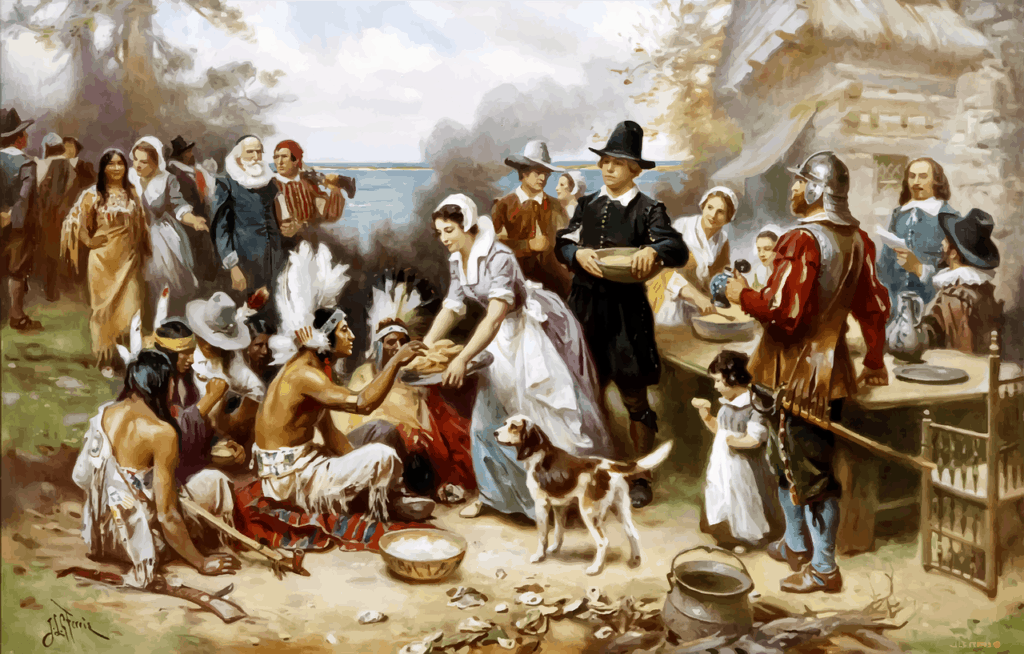 By the time they arrived in America, it was November. It was cold. There were no buildings to move into and no one there to greet them. They spent the winter for the most part on the ship and by winter's end, nearly have had died due to starvation and disease. But, setting aside days for thanksgiving, prayer, and fasting was part of their regular practice. You might say they exercised the discipline of gratitude. So when they completed their first harvest in the fall of 1621 and set aside three days to thank God and celebrate His provision, it was already a part of their regular spiritual practices. It is amazing in a way they could celebrate after losing half of their members just 6 months before and struggles to start a life from scratch in a cold and foreign land.
Gratitude is a Decision Not a Reaction
That is why making gratitude a discipline or a choice we make is so important. Left to our feelings we will struggle to experience gratitude regularly and its benefits. There are many studies that now have been done on treating those with depression with gratitude intervention. The results of these studies find people experience a more positive affect and a greater sense of well-being when regularly making the choice to be thankful. This should not come as a surprise.  It is, after all, God's will for us to be thankful in all circumstances. God created us, He knows us, He loves us and calls us through Jesus to walk with Him in His kingdom, even while we are feeling the affects of living in broken world. Gratitude helps us to keep our eyes on "things above" and opens our heart and soul to God.  It helps give us a greater perspective on our lives as we look beyond the circumstances of the moment to our eternal place with God. Gratitude also can help us bring truth into our lives and defeat the lies of the enemy. In our painful circumstances, the enemy comes in and lies to us about ourselves, others, and God.  Regular gratitude helps us expose those lies to the unending truth of Gods love, mercy, and grace.
What are some ways to build gratitude into our lives?  Here are some suggestions I have heard and practiced over the years that have been very helpful. I don't always put these into practice and I still find it amazing after all these years of walking with God I can tend to forgo gratitude in the midst of a trial or circumstance. But the beauty of discipline is when you keep doing it more regularly, you will find it more easy to return back in those times when you sense your heart is not right.  God is working out His will as we continue to build gratitude into every part of life.  So here are some ideas. I would love to hear what has been meaningful for you.
Begin and end each day thanking God for life and another day to spend with Him
Express gratitude at each meal
Take gratitude breaks and focus on the goodness of God and see how gratitude flows as you ponder your life as His child.
Throughout your day, take notice of what you are doing and be thankful in the moment. Thank God for your job, your car, your family, your friends, your home, a hot cup of coffee….or what He is showing you in the midst of a trial.
If you are married, make a list of the things you are grateful for about our spouse. Keep revisiting and adding to this list.  This might just revolutionize your marriage!
The psalmist says it best:
Enter his gates with thanksgiving
    and his courts with praise;
    give thanks to him and praise his name.
For the Lord is good and his love endures forever;
    his faithfulness continues through all generations
                                                Psalm 100:4-5
May the grace of our Lord Jesus Christ and the love of God the Father, and the fellowship of the Holy Spirit be with you all (2 Cor 13:14).