I grew up attending Mahoning United Methodist church in Youngstown, Ohio. I have many memories of that church, especially during the Christmas season. One of the traditions that I really enjoyed was observing Advent and the lighting of the Advent candles, one for each of the four weeks preceding Christmas. As a candle was lit each week, anticipation grew as Christmas Day was fast approaching. I must admit there were times when my anticipation was for the presents that I hoped to see under the tree more than recognizing the day of Jesus birth. As I have "matured" some over the years, I welcome advent as a wonderful time to reflect on the significance of this season.
If we allow it, Advent provides an opportunity to slow down, to let go of the cultural busyness and consumerism that can infiltrate Christmas and to ponder the depths of the true meaning of Christmas.
I have to admit, I needed to write this blog today for me.  I found myself unsettled with job stressors and realizing that all of a sudden Christmas is only 9 days away and I still have several things on my to do list! In previous blogs, we have discussed exercising spiritual disciplines to help us keep our minds and hearts focused on things above. As I write this about advent, I realize Advent can be another one of those disciplines to keep my focus on the right place.
If you do any research on advent and advent candles, you will find varying ways to observe this tradition, with the colors of candles and their meaning differing. But the following is the way I have enjoyed celebrating Advent. For each candle I am going to let God's word do most of the talking.  The pictures you see are from our family Advent wreath. As you read and reflect of on each candle, what is God saying to you?
Hope is defined as the feeling of expectation and desire for a certain thing to happen. What do you hope for?  How certain are you that it will be fulfilled? I want to know that there is meaning and purpose to life, otherwise what is the point? Does my life have value, do I have value?
This first candle is a reminder of the hope we have in Jesus.  Immanuel, God with us. In a world filled with circumstances than can lead us toward hopelessness, God reminds us of the hope we have in Jesus.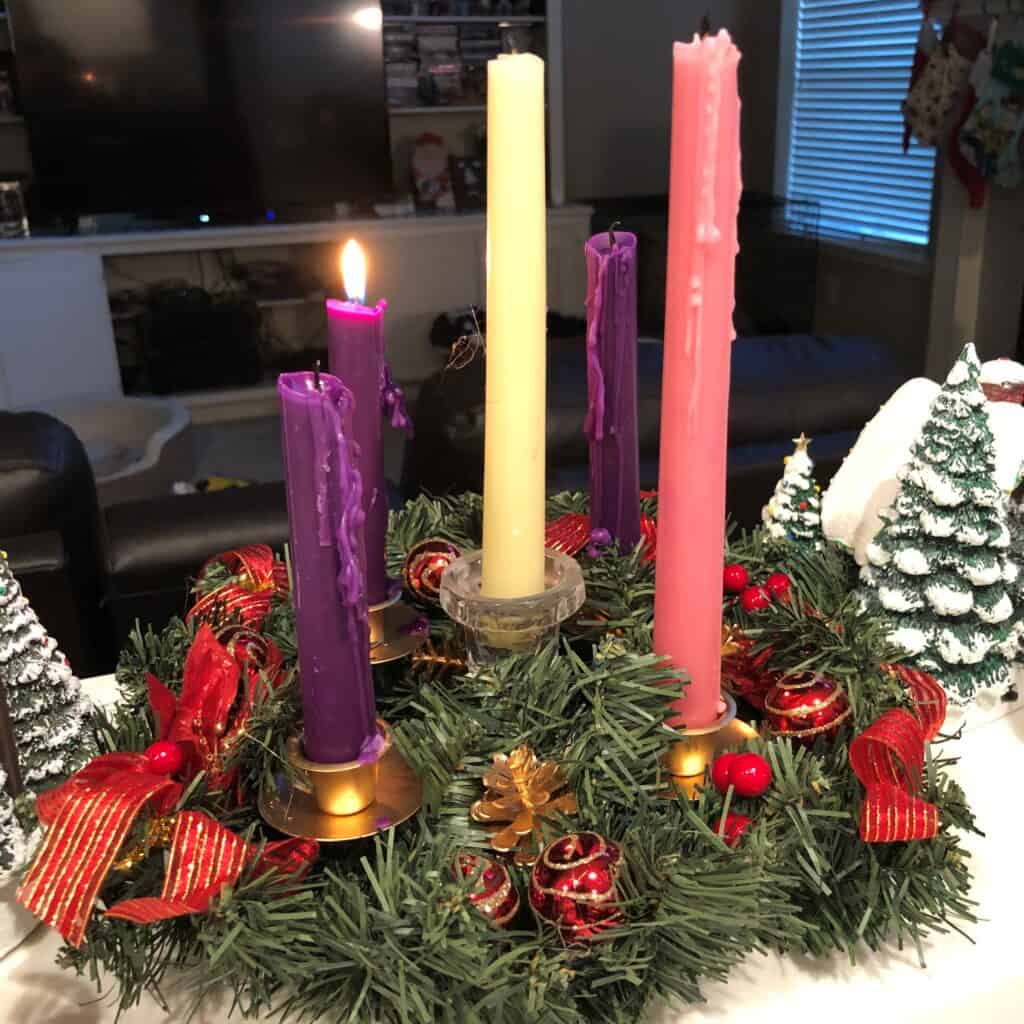 Therefore the Lord himself will give you a sign. Behold, the virgin shall conceive and bear a son, and shall call his name Immanuel.    Isaiah 7:14
 But as he considered these things, behold, an angel of the Lord appeared to him in a dream, saying, "Joseph, son of David, do not fear to take Mary as your wife, for that which is conceived in her is from the Holy Spirit. She will bear a son, and you shall call his name Jesus, for he will save his people from their sins."  All this took place to fulfill what the Lord had spoken by the prophet:
 "Behold, the virgin shall conceive and bear a son,
    and they shall call his name Immanuel"      Matthew 1:20-23
Webster defines peace as "a state of quiet or tranquillity; freedom from disturbance or agitation; calm; repose." Another biblical word for peace is Shalom.   Dallas Willard refers to this Jewish word as  "fullness of life. Peace is a rest of will that comes from divine assurance about how things will turn out."
As we light the second candle, we reflect on the peace that has come through the birth of the "Prince of Peace"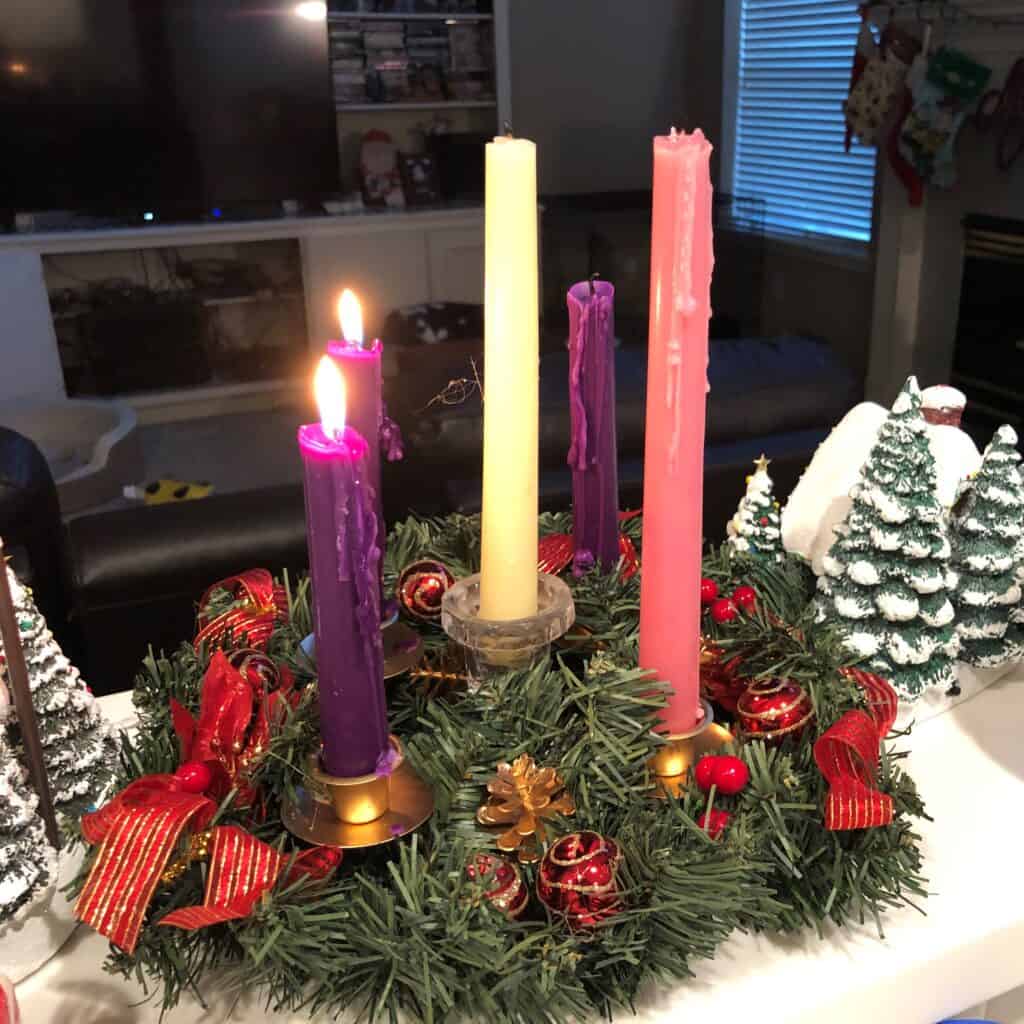 For to us a child is born,
    to us a son is given;
and the government shall be upon[d] his shoulder,
    and his name shall be called[e]
Wonderful Counselor, Mighty God,
    Everlasting Father, Prince of Peace.   Isaiah 9:6
Peace I leave with you; my peace I give you. I do not give to you as the world gives. Do not let your hearts be troubled and do not be afraid.   John 14:27
You keep him in perfect peace
    whose mind is stayed on you,
    because he trusts in you.   Isaiah 26:3
Webster: the emotion evoked by well-being, success, or good fortune or by the prospect of possessing what one desires : delight.  Joy is more than happiness, it is a state of being grounded in the recognition we are children of God .  C.S. Lewis said "I sometimes wonder whether all pleasures are not substitutes for Joy" 
As we light the third candle, we reflect on the gift of unshakable joy.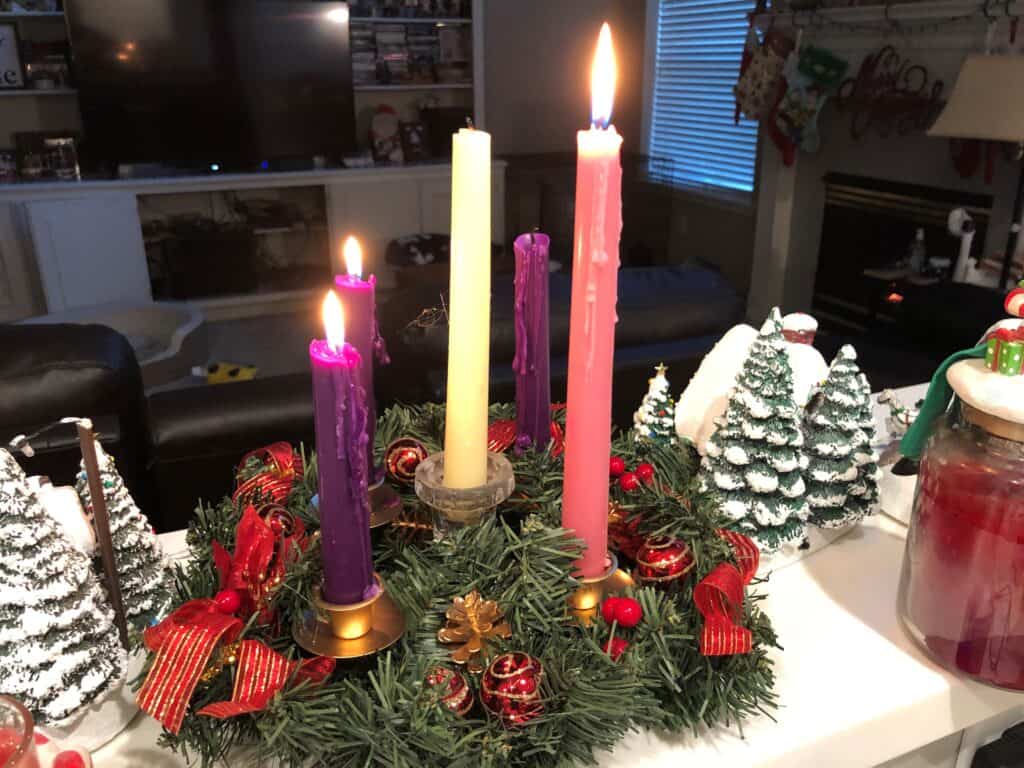 The people who walked in darkness
    have seen a great light;
those who dwelt in a land of deep darkness,
    on them has light shone.
 You have multiplied the nation;
    you have increased its joy;   Isaiah 9:2-3
Delight yourself in the Lord, and he will give you the desires of your heart.   Psalm 37:4
Consider it all joy, my brothers and sisters, when you encounter various trials, knowing that the testing of your faith produces endurance.  And let endurance have its perfect result, so that you may be perfect and complete, lacking in nothing.   James 1:2-4
The Bible is a love story, the greatest love story of all.  From the beginning, God created man and woman to experience a loving relationship with Him and from Genesis 3 on through the New Testament we see God continually pursuing mankind in love.  
This candle reminds us of the depth of that pursuit. Jesus, Immanuel, is God with us and saves us from our sins. No more separation.  Through Jesus, God chooses to dwell in us.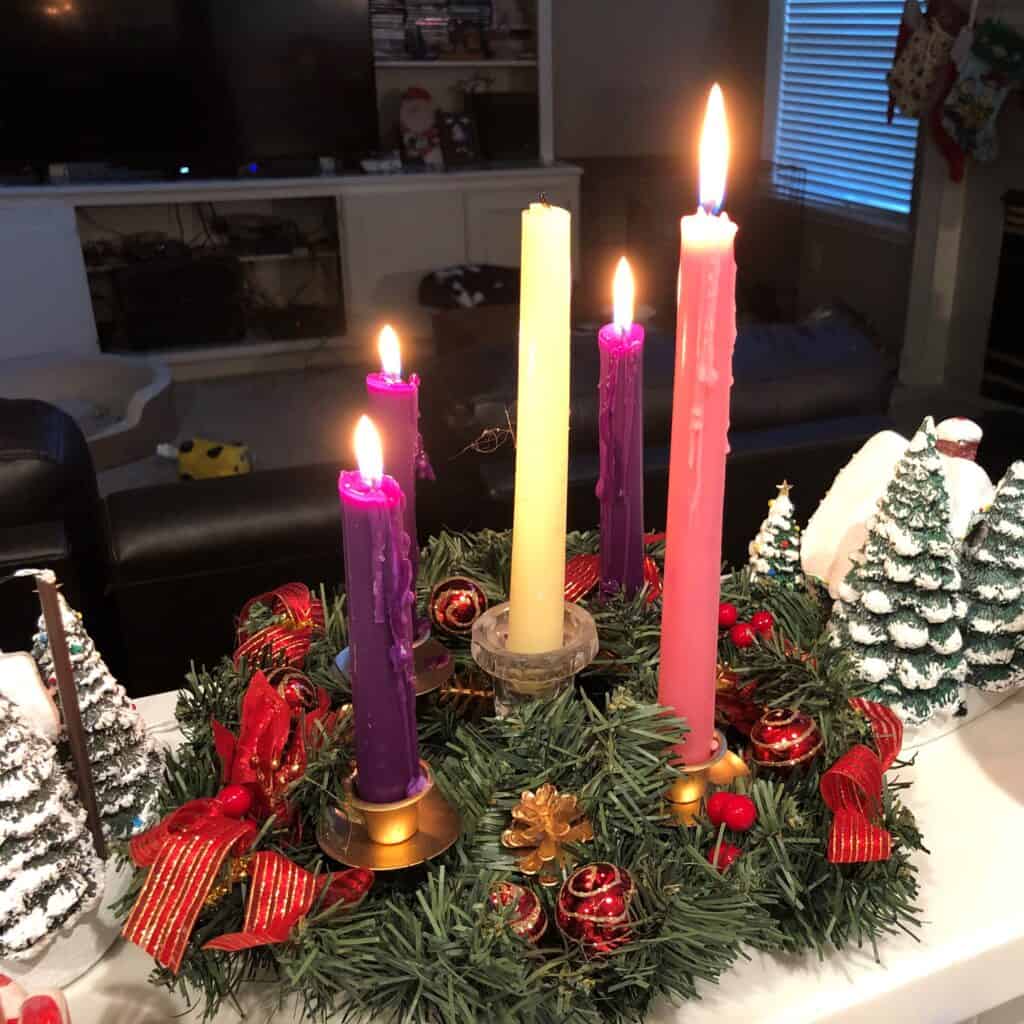 The Lord your God is in your midst,
    a mighty one who will save;
he will rejoice over you with gladness;
    he will quiet you by his love;
he will exult over you with loud singing.   Zephaniah 3:17
 For God so loved the world, that he gave his only Son, that whoever believes in him should not perish but have eternal life.   John 3:16
A new commandment I give to you, that you love one another: just as I have loved you, you also are to love one another.  By this all people will know that you are my disciples, if you have love for one another.  John 13:34-35
One of the great qualities of candles is how they give light to a room. There is something calming and peaceful in a candle. As we light the candles of the Advent wreath, we are reminding ourselves that Jesus is the light of the world. There is a fifth white candle that is traditionally lit on Christmas Eve.  This is the Christ candle and it sits in the center of the wreath. It is a reminder that Jesus is author of life and that hope, peace, joy, and love can only truly be found in accepting and receiving His light.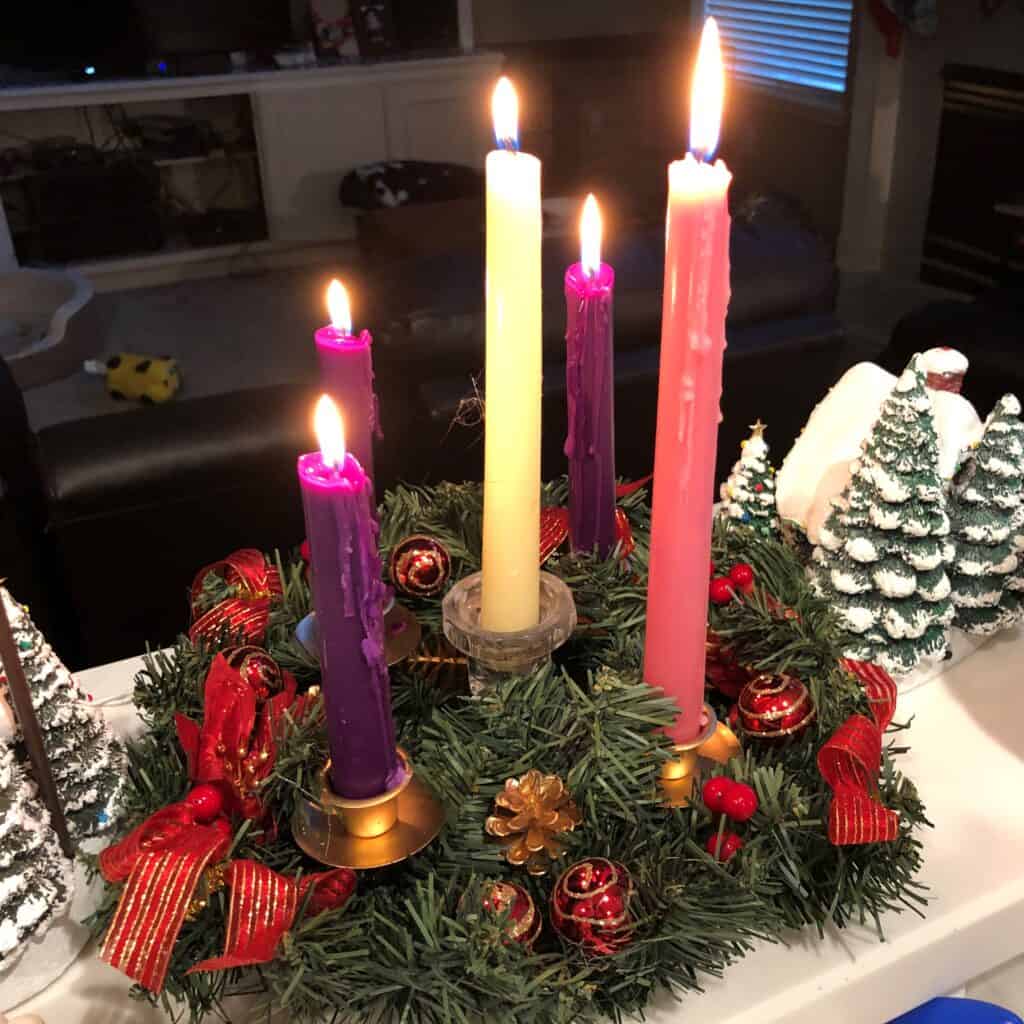 Every person who has ever lived has yearned for a life signified in these candles. I can't think of four better words that describe the cry of men's hearts throughout all time. Hope, peace, joy, and love….Mankind has tried many alternatives or substitutes to finding real life. At Christmas, we are reminded by that baby in a manger that God became flesh and dwelt among us. He lived, died for our sins, and was resurrected from the dead all to invite every person to a loving and eternal relationship that is filled with hope, peace, joy, and love. All we have to do is to receive this gift and learn to walk in the newness of this life.
Are you looking to experience more hope, peace, joy, or love this Christmas? Try using an advent wreath as a spiritual exercise to prepare your heart for celebrating the birth of the Savior of the world.  Even if you only have a week or even a day or two left before Christmas, you can take some time of quiet with you or your family and have a moment of scripture reading, silent meditation, and prayer as you light each candle.  
May the God of hope fill you with all joy and peace in believing, so that by the power of the Holy Spirit you may abound in hope.   Romans 15:13