Have ever experienced something that was incredibly meaningful to you and when you tried to explain it to someone, there were just no words that seemed to adequately describe your experience? Well, that is where I am at this moment. Ever since I returned from Hickory, NC and the Renovaré Institute retreat I have been trying to figure out how I can possibly describe my experience with God and my other new friends in Christ.
Maybe the best place to start is from the beginning, last Monday afternoon. The retreat center sits up on a hillside with beautiful views of the wooded landscape.  Funny thing about driving to the retreat center.  You have to drive on Greedy Highway to get there.  When you get close the retreat center, you then turn onto Trinity Lane.  From Greedy Highway to Trinity Lane… I was being taught a lesson from the very beginning.  You can't make this stuff up!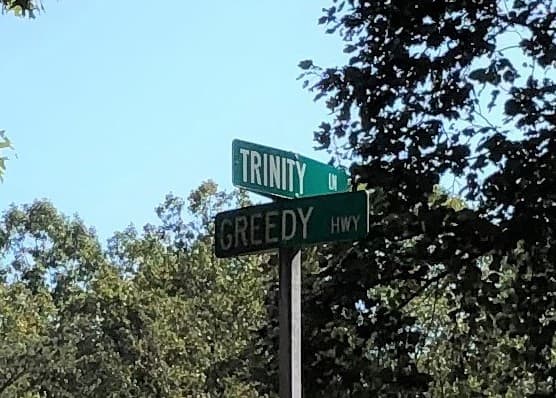 After checking in midafternoon, we spent most of our first day together on an exercise called "Laying the Altar".  Each person was to bring an object that represented how they were currently connecting with God, answering a question such as where has God been or what has God been like. Some came to the retreat in a good place while others shared some pain that they were experiencing.  I brought our dog Chaucer's leash, because over the past few years God used those times walking with Chaucer to speak to me. I shared how He has been helping me heal from the lie that I am a disappointment to Him and that I was looking forward to greater healing and a more accurate view of God.  I laid the leash on the altar in gratitude to God for those precious times together and for Chaucer too.   What an amazing way to get to know each other. It was a beautiful way to allow each person to share where God is for them and drew us more closely together.
We finished the evening like we would do every other evening, except on the day of silence, by observing the Lord's Supper. Holy Communion can be observed in different ways but for the retreat we observed it by the method of Intinction. After the leader shared the communion story, he gave communion to four of our group who we were asked to be assistants. The assistants were then ready to welcome participants, two assistants at each end of the room. We were incredibly blessed to have soft worshipful music played by Carolyn Arends, who has had a long and successful career as a Christian recording artist and who is also the director of Renovaré Institute. As music played, I watched as people went forward to partake in the sacraments. There is something incredibly moving and powerful watching as people from around the world from all walks of life celebrate in unity in what has been celebrated throughout the last 2000 years, initiated by our Lord. Finally, I got up to receive communion. At this point, my heart was already softened by what we had experienced so far. I went up to the first assistant who was holding a plate of bread. As took one of the pieces, they said to me, "Doug, this is the body of Christ, broken for you." Now a lump was building in my throat. I moved to the second assistant who was holding the cup. I dipped the bread into the cup and the assistant said: "Doug, this is the blood of Christ, shed for you." Wow, there must have been some dust in the air because I started getting tears in my eyes. I placed the bread in my mouth and savored it as I walked back to my chair. I wish I could remember what song Carolyn was singing but by this time we all joined in together and sang with hearts full of praise and thanksgiving for the life we had been invited into through what Jesus did for us.
Absolutely amazing how in a span of 5 short hours, including a wonder meal that we enjoyed halfway through our Altar exercise, I felt such community with 50 people who I had never met in my life. Some coming from India, Japan, England, South Africa, Equador, China, Canada as well as from all parts of the United States. What a wonderful glimpse of what Jesus meant when He said "The Kingdom of God is at hand." (Mark 1:15)
We ended the night in prayer and returned to our rooms to rest and get ready for a full day ahead. I couldn't go to sleep at first as I was geared up with excitement for what the rest of the week would hold. I would not be disappointed! Stay tuned for the next post where I will try to summarize our first full day on Tuesday.
If you were to participate in the Laying on the Altar exercise, what object would you select to describe how you are connecting with God?